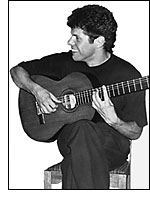 Born 1960 – Right CD Channel – MFA in Music,
Artist Diploma





1974: After hearing Segovia playing on the radio I decided to pursue a career as a classical guitarist. A little time before that I had fiddled around with some chord strumming but wanted more, more… Okey, I admit, getting all the girls as a rock´n roll guitarist was an accepteable second choice but my hair just wouldn´t grow long enough…



1976–1978: After having worn out a few private teachers I started to study classical guitar with Hans Olof Sandquist and Music Theory at The Conservatory of Music in Lund, studies aimed at preparing for higher music studies. I also studied 3 years at a technical gymnasium, studies that my parents wanted me to do "just in case of"… I don´t regret it at all, most of my dearest friends are from this period.



1979–1986: Studied Guitar Performance with Professor Per-Olof Johnson at the Swedish State Concervatory of Music at the University of Lund. I graduated in 1986 with an Artist Diploma, a grade only given to one or two students per year.



1987–1990: Some major scholarships gave me the chance to study Music Performance with Pepe Romero at the University of California in San Diego. And nope, I didn´t try surfing...





Besides jumping in as a guitar teacher at different music schools between 1976 and up to 1990, I frequently gave public concerts from 1975 and on. I often played duets with my twin brother. During my years in the United States I gave masterclasses and concerts at universities in Pittsburgh and San Antonio. In 1990 Progetto Avanti was founded and the continuation of my story is…well…on this website I guess… I have to read more about it…





This is what I do when I don´t play the guitar…