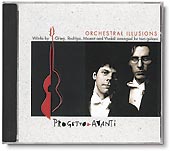 Warner Classics International
Label: Finlandia Records, 1997
Record Numbers:
0630-17693-2 (International)
WPCS-5754 (Japanese Version)
Total Time: 62'36"

This is the international version of the debut album. In the US, UK and Canada it was released with another cover and the name Orchestral Classics for Two Guitars. Same music, though… The two versions are from the year 2000 merged into one—in the Warner Classics Catalogue the album is listed with the name "Orchestral Illusions" together with the cover and record number from the other version !!
This cover has been sold in thousands of copies, so it's hardly a collector's item (yet), but if you already have bought it—hold on to it… ;-)
Please note that the Japanese version still has the cover above. .





Do you want to read some comments from the booklet?




Sound Samples

Joaquín Rodrigo:
Concierto de Aranjuez
for Guitar and Orchestra
(3 Movements)
Edvard Grieg:
Peer Gynt Suite No. 1
Op. 6 for Orchestra
(4 Movements)
Wolfgang Amadeus Mozart:
Eine kleine Nachtmusic
String Serenade in G major, KV 525
(4 Movements)
Antonio Vivaldi
Concerto i n D major
for Strings, Lute and Basso Continuo
(3 Movements)